Why Choose Us? It's Simple...We are Apple MAC Specialists!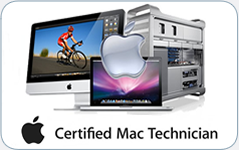 East Coast Computer Services are a locally owned and customer focused company. With over 10 years experience in the Macintosh repair market we are MAC repair specialists. At our repair workshop in Raheny we offer a range of services from fixing power connectors, changing screens to components on faulty motherboards. We take pride in our professional manner and our ability to provide an accurate and economical diagnosis. We quote before we repair and communicate with you during the entire repair process tailoring our recommendations to your specific needs and circumstances.
Our standard service is one to two days and our same day service may have you up and running in a matter of hours. Let East Coast Computer Services put your mind at rest with any MAC repairs you require. We are an established, independent company with a proven track record of providing quality and service delivery. The key to our success is the development of long-standing partnerships with our clients, based on consistently providing high levels of performance and understanding deadlines. We do not outsource any work and all repairs are carried out in our workshop in Raheny Village.

Find out for yourself why we are one of the top choices to repair all Machintosh models.
Genuine Apple Replacement Parts used on all repairs.
Certified Apple Macintosh Technician.
MacBook & Macbook Air Repairs
Whether it is for general repairs, cleaning or installing upgrades, we are here to help you with all common MacBook repairs.
DC Power Jack and Logic Board Repair.
LCD Screen, Backlight, Invertor and Hinge Repair.
Mac Operating System Re-installation.
Keyboard and Trackpad Repair.
Free system clean-up with all MAC repairs.
Macintosh Desktop Repairs
We repair all three desktop computers in the current Macintosh lineup, the Mac Pro, iMac and Mac Mini. We can repair all common faults including:

RAM issues – 3 beeps at start-up.
Mac Starts, but stops – blue or grey screen.
OS X software problems.
Genuine Apple Macintosh Replacement parts used on all repairs.

Hard Drive Replacement & Upgrades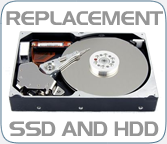 Has your hard drive a clicking sound or has it already failed? We can install a new 3.5" or 2.5" hard drive and reinstall your Mac operating system, repair includes:
All Essential Updates Included.
Latest OS X installed.
Additional software packages also available.
Upgrades to a larger HDD or SSD.
data recovery + time machine backup
Has your internal or external hard drive failed and is now no longer accessible?
We can recover and backup all your important data and files:
Music & iTunes database.
Pictures & Family Photographs.
Important Office Documents.
Get your files on external HDD flash drive or DVD.

macbook and macbook air screen Replacement
We can replace all faulty or shattered screens on the MacBook PRO and MacBook Air.
Guaranteed new screens only.
Professional Fitting Service.
MacBook Pro - 13",15" and 17" screens replaced.
MacBook Air - 11" and 13" screens replaced..
Request a Quote
Replacement Screens
| Apple Notebook Price Guide | Our Price |
| --- | --- |
| 11.0" LED/LCD Screen Replacement | Call Now |
| 13.0" LED/LCD Screen Replacement | Call Now |
| 15.0" LED/LCD Screen Replacement | Call Now |
| 17.0" LED/LCD Screen Replacement | Call Now |
| | |
| iMac Screen Replacement LCD / Glass | Our Price |
| For a repair quotation please call with your iMac serial number. | Call Now |
Some Testimonials
Austin Douglas
"We do business with East Coast and pass on computer repair issues when a customer of ours is looking for work done on their computer. We have no problem recommending East Coast and have always heard nothing but positive feedback"
Pat Campion
"For 2 years East Coast have been fulfilling the office IT requirements and computer repairs for AbsorboPak in Howth. Always a great service and a pleasure to do business with"
Martin McLoughlin
"We have had our office computers and laptops repaired with East Coast and would highly recommend them, a very prompt service and all our computers are virus free and running great"