Our Opening Hours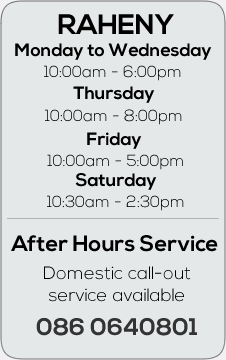 Staff Login
Welcome to...
East Coast Computer Services
8 Main Street, Raheny, Dublin 5.
We can provide you with the repair solution for all your domestic and business mobile and computing needs in and around the Dublin area. We can repair all models of laptops and desktop computers. No repair is too big or small, we can fix them all!

If your notebook has suddenly died and will not start, or you are experiencing software or hardware problems you cannot resolve our Computer Technicians are fully trained to fix most computer problems, whether it is a software or hardware related issue, MAC or Windows PC. Perhaps, your PC has crashed or maybe you would like your broadband Wi-Fi connection problem resolved. Whatever the problem - we can help. We can also help with MP3 and MP4 players, PDA's, Digital Cameras and many more computer peripherals.


Repair service for all your Desktop PC, Laptop, Tablet and Smartphones. Collection is from Monday - Saturday at 9:20am and we will be returning all completed repairs upon completion in the evenings.

Price Cutter Opening Times:
Mon - Fri: 08:00 - 23:00
Sat - Sun: 09:00 - 23:00.

Remote Support Service
When you need computer help or can't figure out a technical problem on your own, give us a call and we will fix your Windows PC problem remotely.
Most computer problems can be diagnosed over
the phone and fixed by remote computer repair.
For assistance just download and install the remote connection software and leave the rest to us!

GET SUPPORT NOW
Latest facebook news
Courier Service Available
Courier service availaible for all devices in need of repair. Contact us on
(01) 8511988
to arrange a courier pick-up or alternatively you may fill in our form and we will call you back.
View Our Tech Blog
View our new Blog, avail of some cool tricks and tips for Windows, Apple and Android. Sign up and become a member and you too can join in with everybody sharing their knowledge of computers!!
Enter Blog