Want to get support for your mobile device?
We are now offering remote support services for your FBOX, Q-DROID or any other supported Android device to be remotely controlled for instant support.

This exciting new feature allows our technicians to not only manage mobile devices, but it also allows us to ability to remotely see your screen and configure or change settings on your device just like we have been able to do on your Desktop PC's, Laptops and Macs. By downloading and installing our support app and allowing the technician to access your device we then have the ability to chat, transfer and install our applications and files back and forth, view device information, stop processes, and remove unwanted apps. Just like our other remote support sessions on computers, our new support service allows us to share the screen of your TV box, phone or tablet that we can then assist with any technical issue like, setting up an email account, adding or removing any user account, or providing assistance in the app store or Google Play. With our new platform we can even run a remote diagnostic on your device which can help us fix issues and best of all is that we can do this over your 3G/4G connections which allows us to service your Android mobile device from virtually anywhere!
MAKES OF ANDROID BOXES
Because there are so many different companies manufacturing cheaper Android Boxes it is not always possible to offer remote support. QuickSupport will work on Android version 4.0 and later. Please feel free to use the contact form and we will get back to you if we can help in any way.



Support Services
Movie / TV & Sports Apps Installations
Kodi / XBMC Setups.
Remote Diagnostic.
Anti-Virus App Installation.
Finding the causes of crashes, lock ups.
General Email Problems or Setup.
Assistance using the App Store.
Our Support Charges
If we are working on your Android TV Box to resolve an issue with an app the charge is just €10 ex VAT. If additional apps or add-ons are required it may take some time, regardless of it being 1 or several hours we will still only charge you the same flat rate of €25 ex VAT.
root hosting - the Pay As You Go TV App!
Get Live TV, Sports, Documentary or News Channels directly to your Android Smart TV Box with this fantastic app.
There's no need to search through free TV sources from different providers. Root Hosting features the top TV Channels, many of which are in HD and are all in one app and is very easy to use with a full TV Guide (EPG).The app works worldwide so it is ideal for people who have a holiday home; bring your TV box with you on vacation and you can access all your channels away from home.
Download
Sportz TV
download Quick Support

Download

CALL OUR SUPPORT OPERATORS!
10:00 - 18:00 - Raheny on (01) 8511988
19:30 - 20:30 - Kevin on 086 0640801

How to install remote support software
1 Once the app initializes, it will generate a unique ID, all you need to do is to read it out to our technicians. Please ensure the QuickSupport app is running on the device to create a successful connection.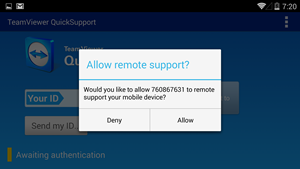 2 Please select and click on Allow for QuickSupport to create an encrypted tunnel. We can then start your remote support session to troubleshoot and rectify the problem.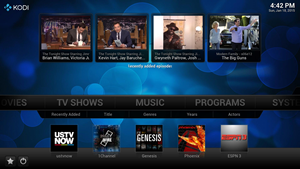 3 When your suppott payment has been processed we will get to work and have you back up and running again and once completed we then simply disconnect from your Android device.


Some Testimonials
Austin Douglas
"We do business with East Coast and pass on computer repair issues when a customer of ours is looking for work done on their computer. We have no problem recommending East Coast and have always heard nothing but positive feedback"
Pat Campion
"For 2 years East Coast have been fulfilling the office IT requirements and computer repairs for AbsorboPak in Howth. Always a great service and a pleasure to do business with"
Martin McLoughlin
"We have had our office computers and laptops repaired with East Coast and would highly recommend them, a very prompt service and all our computers are virus free and running great"